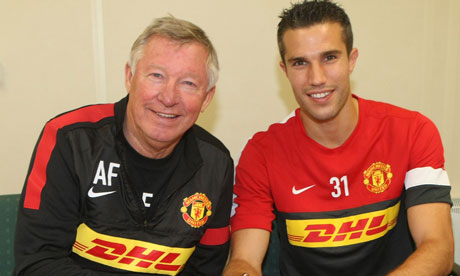 RvP is gone, we know all about it. Some of us have said that's it, no trophy for us this year. We are just a feeder club.
I disagree with that assessment completely! Without doubt RvP is a huge player, was needed last year to keep us in the top four. However, as much as RvP may think he's free to go and win with Utd, it's Arsenal who is really free.
We no longer have one man to build a team around. We now have a clutch of players to build with - a team, they call it. Giroud, Podolski and Cazorla have come in to supplement Walcott, Gervinho and Oxlade-Chamberlain in attack. Instead of one 30+ goals a year player we have easily four 15+ goals a year players in Podolski, Giroud, Walcott and Gervinho - possibly even Cazorla although I'd be happy with 10 goals and 15 assists from him.
It is my opinion that scoring goals will not be an issue for Arsenal, whatever formation our most valuable asset, Wenger, chooses to employ. Perhaps some defensive cover would be nice but hey, if we can always score one more than them, we're going to be fine!
I, for one, am still very optimistic about this coming season.
Written by Alex Phillips
Follow me on Twitter @alexthenac
Please like O-Posts on Facebook
Follow the site on Twitter @OPosts