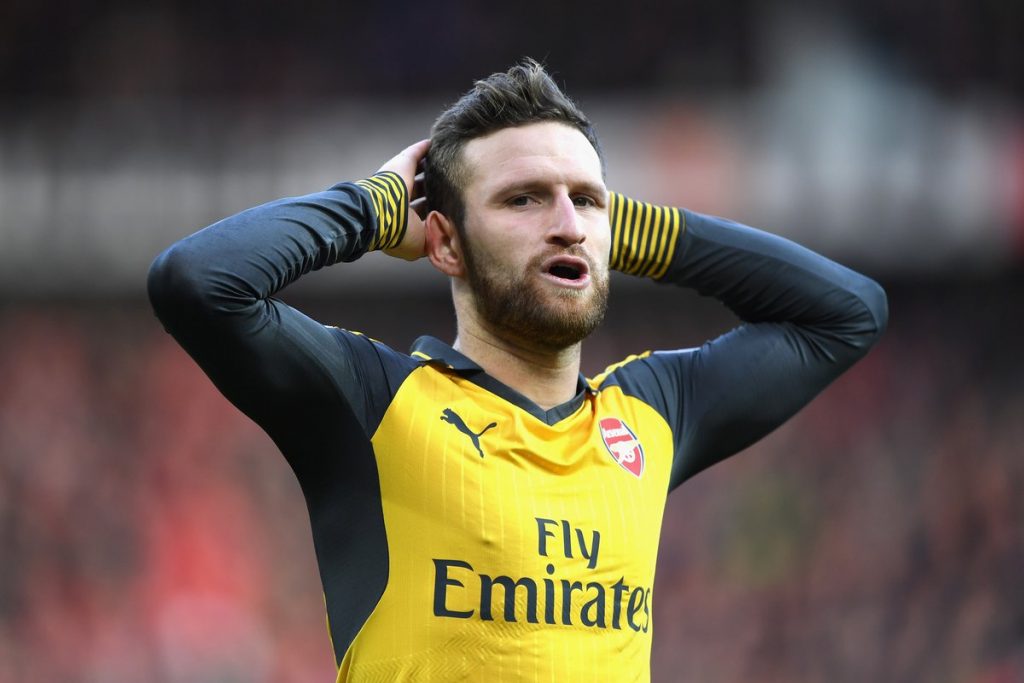 Earlier this season, the arrival of Shkodran Mustafi from the Mestalla to pair up with Laurent Koscielny was said to be the substratum for Arsenal's success.
The man who cost £35 million - which is a lot of money when Arsene Wenger is involved-to provide defensive natural solidarity to a flustering backline,  was quick in getting the pundits by his side, who swiftly pointed out the immediate impact of Arsenal's new arrival.
That percipience seems completely ridiculous now.
With his shrewd transfer market tactics even during expansionist times, more strenuous than learning how to get free bets Wenger has kept the demanding supporters going, even without a major trophy (except a few FA Cups), with brilliant signings over the years; although without a solid backbone, they could only go so far as proved again last season.
Enter Granit Xhaka, who was to be an upgrade on the rash Coquelin, to cover the back four, and Lucas Perez in attack.
The fans though were looking forward to Mustafi, despite him suffering an ankle injury on international duty, brought in to replace Mertesacker and forge a partnership with Koscielny, who had been solid last season.
Disappointing
Since the turn of the year though, Mustafi has looked shaky at best. Arsene will be nothing less than disappointed.
Statistics can be misleading, and after receiving undue plaudits for remaining unbeaten in his first 24 Arsenal appearances, Mustafi's career came crashing down when people realized that the run owed plenty to fortune and more importantly the collective efforts of the team.
The stat, which contrived to deceive, masked some of Mustafi's deficiencies – it didn't include the number of times Koscielny or Cech bailed him out with last-ditch interventions, or, his erratic positional sense, and tendency to lose concentration.
His nadir
In terms of his recent run of poor form, his performance against Bayern Munich was the nadir.
The manner in which he allowed Robert Lewandowski to escape him for Bayern's second goal was almost forgivable when compared to his antics for their third.
Mustafi's miscommunication with Bellerin let Lewandowski play Thiago through on goal, as the Spaniard was left with the simplest of finishes.
That kind of chronic indecision has plagued Mustafi of late. Arsenal are a team low on confidence (with their biggest defeat in Europe across 2 legs) - and he seems to be struggling more than most.
Bright start
Mustafi began brightly, making his Gunners debut in a 2-1 win over Southampton in September, as the club's summer signing delivered exactly what Arsenal paid for - a series of solid defensive performances, and leadership abilities too.
Instantly proving to be an upgrade over Mertesacker and Gabriel, he was as commanding as ever against West Ham making seven clearances and winning six of seven aerial duels - the most of anyone on the field, with Koscielny ably supporting him.
After defeating an improving Chelsea 3-0, the praise started flowing in as the defensive duo made 12 clearances, 10 interceptions, 4 tackles and 2 blocks between them against Chelsea and were duly rewarded for their exceptional performance with a thoroughly deserved clean sheet.
A run of 14 league matches unbeaten were responded bitterly by back-to-back away defeats just before Christmas in December to City and Everton, which threatened to derail Arsenal's title challenge.
But four league wins out of five since then moved them back up to second place, eight points behind leaders Chelsea, who were leaving everyone in their wake since the switch to a 3-4-3.
However, all four defeats came in Mustafi's absence and he quickly became Arsenal's lucky charm.
"I think it's going to be more difficult than it was before, but I'm a believer," he told Sky Sports, when sidelined with a hamstring injury. "I hope I can keep that statistic until the end of the season," the new Gunner beamed.
The defender's desire to remain unbeaten was a big ask for his fellow Gunners, who were set to face Premier League leaders Chelsea again and top four rivals Liverpool in the space of the next five games, with injuries piling up as well.
Arsenal also had a Champions League clash away to Bayern Munich thrown into that mix, meaning Wenger's men would have had to summon unrivalled form in order to emerge unscathed.
In a dramatic 2-1 win over Burnley, Mustafi ensured an Arsenal victory over the Clarets as he scored to keep his record of never having tasted defeat since joining the club in the summer.
Exposed
But soon the Gunners found themselves back at square one with a back four that suddenly seemed as vulnerable as it has in years as Watford and Chelsea brutally exposed the brittle defense.
And that's despite the fact that — until Koscielny's Achilles problem ruled him out of two games — the Arsenal boss had his four first-choice defenders fit and available for their current wretched stretch.
The supporters had seen enough.
Turmoil took over as Arsenal fans made clear their discontent, with Wenger bearing the brunt of it while shielding his players.
#WengerOut was the new slogan in town and it was catching on as the players started imploding in matches.
Mustafi insisted: "Wenger has been here 20 years, he knows what he has to do. Now it's the players who have to go on the pitch and put in the performances."
Sadly, no one echoed his statement.
As was witnessed in the 2-2 draw against Man City, the German centre-back tore off in celebration on scoring the late equaliser, but some of his team-mates seemed less than enthused.
The team was slammed by the pundits for not celebrating, Sanchez reportedly had a bust up in training and Ozil went missing in key matches.
The mauling at the hands of Bayern was the final nail in the coffin as their own supporters started writing them off, amidst a horde of '4th place' jokes.
Torrid time at Selhurst Park
Arsenal were desperate for some solace.
With Koscielny out, Arsenal needed Mustafi to be the calming influence in the centre of the back four but his display left a lot to be desired.
He had a torrid first half at Selhurst Park and was badly at fault with a series of rash tackles, ended up with a booking, was physically bullied by the superb Christian Benteke as the defender never quite recovered his composure in a match which ended up being his worst for the club.
After the initial delight of spending big on a centre-half, the question Arsenal fans are now asking is whether they bought the right kind.
A good footballer or a good defender?
Troublingly, Mustafi looks more like a good footballer than a good defender.
His best qualities are his distribution and his willingness to take possession under pressure ala a David Luiz, or a Vermaelen— an outstanding ballplayer, whose defensive instincts were never quite up to scratch.
Ultimately, Vermaelen's inconsistency forced Wenger to scrap his plans to pair him with Koscielny on a long-term basis, instead choosing Koscielny in tandem with Mertesacker.
There was a natural balance to their partnership that has proved difficult to replicate.
Wenger had been vocal about his displeasure at the criticism towards him as he had guaranteed a Champions League spot every time in the last 20 years, but even that took a hit.
Just another Koscielny?
There were those in the Arsenal support who wanted to see more of Rob Holding.
The former Bolton man has been impressive whenever called upon, and appears to share some of Mertesacker's best attributes, some that have been notably absent from the team of late—leadership, organization and a sense of calm, but ideally though, Wenger would like to make it work with his expensive new signing.
With Mustafi, Wenger knows that he may have bought another Koscielny whereas what they needed was another (maybe quicker) Mertesacker.
Deja vu
This seems like deja vu.
Gabriel Paulista was initially heralded as a formidable acquisition on his arrival from Villarreal, but after a few months' grace the flaws in his game emerged.
There's certainly an argument that it's Arsenal, rather than either Gabriel or Mustafi, that are the problem. It looks more like a systemic issue spread throughout the team than one of personnel.
Should Wenger look into his coaching staff to extract tactical discipline from his young wards?
Mustafi has good raw attributes, but appears to be going backwards rather than progressing at Arsenal. It would be wrong to judge prematurely and at 24, age is still on his side.
The question is whether Arsenal can afford to wait for him to reach the required standard. Right now, he is coming up short.
Written by Shijit Nair
Like O-Posts on Facebook
You can also follow O-Posts on Twitter @OPosts