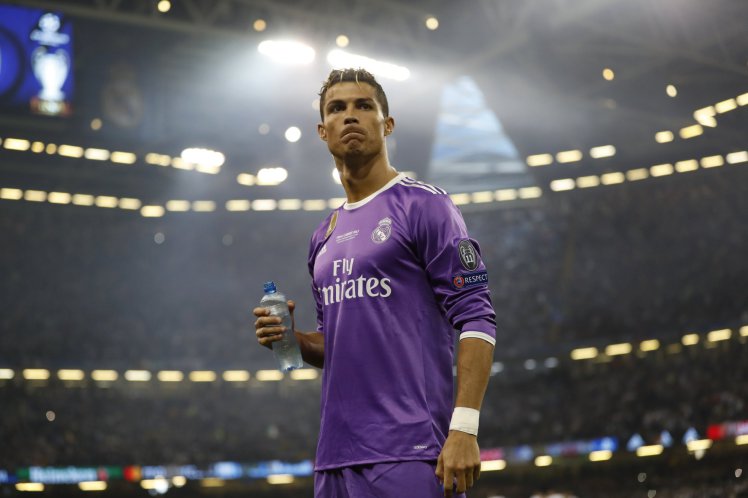 Cristiano Ronaldo was at his resplendent best as Real Madrid blitzed past Juventus with a 4-1 victory to claim a record 12th Champions League title.
The win in Cardiff meant the Los Blancos became the first team to successfully defend Europe's most illustrious club cup competition.
Although Juve registered an ebullient start, it was Real that drew first blood in the 20th minute through Ronaldo who was on the finishing end of a textbook counter attacking wave.
Mario Mandzukic drew matters level with a deft overhead kick seven minutes later, a goal that was quite rightly among the best ever scored in a Champions League final.
Real Madrid were however untamable after the interval, as they overwhelmed the Italian champions with three more goals that helped deliver their third Champions League title in four years.
Man for the big occasions
When it comes to the big occasions, not one on this planet could ever lace Cristiano Ronaldo's boots. In truth, of all the players on the pitch, none showed most gusto than the Portuguese skipper.
His two goals to the good couldn't have come at a better time, as they put Madrid in the driving seat on both occasions, with Juve haplessly chasing for the equalizer.
Ronaldo has proven to be a luminous, dependable figure having scored in four Champions League finals, including the all-English final between Chelsea and Manchester United in 2008; one which the latter emerged victorious.
He has now scored five goals in all five Champions League finals for both Manchester United and Real Madrid, making him the man for the big occasions.
Five times?
Having successfully completed the Spanish double of the Champions League and the La Liga, the former United winger could befittingly win his fifth World Player of the Year Award; equaling Barcelona's Lionel Messi.
Most admirable of all is the amount of ground Ronaldo had to cover to catch up with Messi.
The Argentine already had four Ballon d'Or trophies while Cristiano had won just one, which goes to show how utter grit and determination propelled the Portuguese back to world dominance.
Can't stop, won't stop
At 32, Cristiano Ronaldo is currently experiencing the best form of his career.
Albeit not as imperious in skill and dribbling, the forward does just enough to score decisive goals that have secured both personal and collective accolades aplenty.
There will without question be plenty of incentive from Cristiano Ronaldo next season as he tries to slay the dragon that has been Lionel Messi with a sixth Ballon d'Or.
Written by Brian Humphrey
Follow Brian on Twitter @brihum
Like O-Posts on Facebook
You can also follow O-Posts on Twitter @OPosts