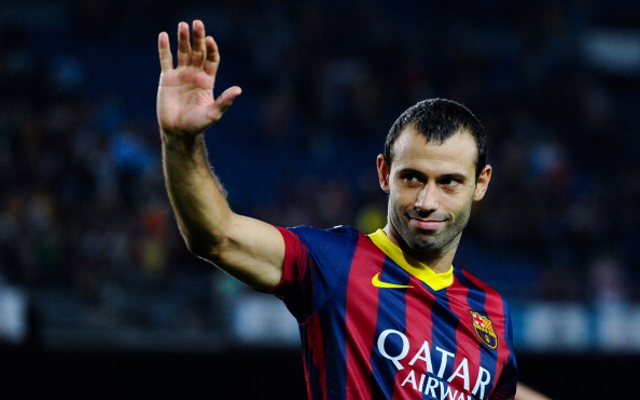 Andy's latest "The Madrid-Barca Axis" column. 
There are less and less players like Javier Mascherano in today's modern game.
Few who are prepared to play in different positions for club and country and fewer have ever made the transition look so seamless.
Having moved to Barcelona on the back of impressing as a defensive midfielder, he has proved to be the club's stand out central defender in recent seasons.
Understanding of the game
What enables him to master two such challenging roles is his understanding of the game.
His ability to read the game and be tactically aware of what not only he was doing on the pitch but with those around him that really stood out.
Early in his Barcelona career, the then coach Pep Guardiola began to deploy him as a ball playing centre back and he even started there against Manchester United in the Champions League final at the end of that season.
Argentina's general
When he plays in Spain he is now synonymous as being Gerard Pique's partner at the centre of Barcelona's defence, but when he represents Argentina he once again becomes the defensive midfielder and the general in their side.
Deployed slightly further up the pitch his game now becomes one of surprise and disruption for the opposition and for his team he becomes the focal point.
During their run in the World Cup in 2014 everything went through him before going onto Lionel Messi.
It was he who was trusted to retain possession and look to provide a platform for their attacking players to assert themselves.
In fact, for both club and country he has become a fine exponent of the long pass to break the opponent's defensive line which enables both teams to stretch the game.
More than a defender
For with Mascherano there is much more than defensive stability and a terrier like tenacity to regain the ball for his team; he is technically superb, too.
It seemed, during his break through seasons with Liverpool, that he was destined to go the very pinnacle of the sport in his tried and tested position.
To switch once and remain there for the remainder of your career is an achievement, but to swap around consistently and still perform to a level that ensures you a starting place in two of the best sides around demonstrates the levels that he has reached as player.
Much of the hype that surrounds the modern game is associated with the glory of the attacker.
Truly wonderful to watch
The game is fortunate enough now to be blessed with two of the greatest ever currently plying their trade and whilst defensive tactics seem to have taken a back seat for this generation of players, there remains something truly wonderful about watching Mascherano play.
The sheer will to fight and win despite not playing with the frivolity of some of those around him has always made him stand out.
Mascherano is a perfect example of a player who demonstrates that if the brain remains the quickest asset then adaptability can prove lasting and efficient.
When you also add in technical ability and a desire to win it is easy to understand why the Argentine has become such a general of a player and in the future will be talked about in the same way players like Beckenbauer and Rijkaard are talked about now.
Written by Andy Hunter
Follow Andy on Twitter @hunter67980
Like O-Posts on Facebook
You can also follow O-Posts on Twitter @OPosts