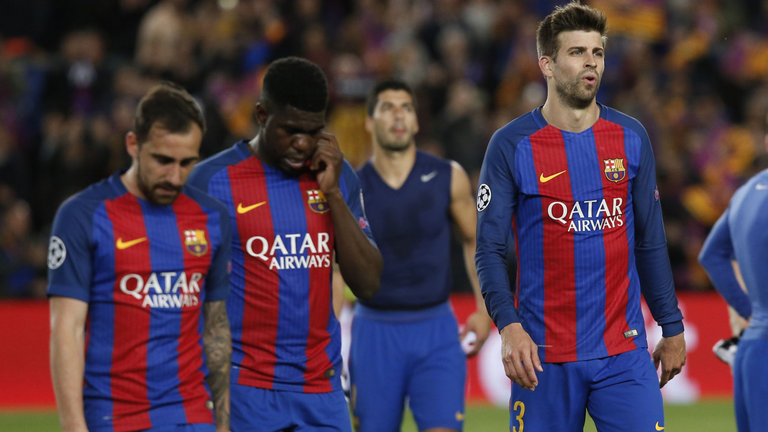 Barcelona's failure to retain their La Liga title came about because of a multitude of different factors, including a lack of consistency throughout the campaign as well as the disruption caused by Luis Enrique announcing his upcoming departure midway through the season.
With that being said it must also be accepted that Real Madrid have been excellent under Zinedine Zidane and Los Cules were only three points off the top of the table.
Recruitment is a real issue for the Catalan giants at the moment with the club having spent an awful lot of money on players last summer with next to no return on the pitch.
The new era
As the club enters a new era, likely to be under the stewardship of Ernesto Valverde, it must be accepted that Barcelona must address the issues with their recruitment policy this summer and sign players capable of helping the team become a true force once again.
At the moment there seems to be somewhat of a campaign building out of Catalonia with regards to the signing of Liverpool's Philippe Coutinho with Neymar believed to be a key driving force behind the club's desire to prise the Brazilian from Anfield.
Now if you were to ask me one specific area where Los Cules do not need to improve with a £60million player then it would be in attack.
For another two years at least, provided injuries don't derail anybody, you simply aren't going to dislodge Neymar, Lionel Messi and Luis Suarez from the starting line-up.
Xavi's presence still missed
It just isn't going to happen irrespective of who takes the reins this summer. You have to look at midfield as the area where Barcelona have gone backwards since Xavi's departure in 2015.
He has never been replaced properly with Ivan Rakitic a far more industrious and direct worker than the La Masia Graduate.
Thiago Alcantara has proven himself to be the heir to Xavi's position yet he finds himself finally thriving at Bayern Munich after he was never truly given a chance at the Camp Nou.
Andres Iniesta is now 33 years old and his contributions are decreasing as is natural with a player of that age.
Barcelona's midfield needs a real boost of creativity from a deep position and I don't think Coutinho is capable of playing in such a role; he thrives in the final third and is left wanting at the opposite end of the pitch.
The wonderful thing about Xavi was his ability to read a football match.
He was never going to be the most forceful tackler on the pitch or somebody who would pick up a number of cards over the course of a season, yet his ability to read the game allowed him to be in the right place to cut passes out or pressure an opponent.
His defensive work was far from excellent but it was enough when Sergio Busquets was just behind him.
Too over-reliant on Busquets
Now ever since his transfer to Al-Sadd there has simply been an overreliance on Busquets to do all the defensive work in midfield and been given no help whatsoever.
It is no coincidence that the team's better performances this year have come when Javier Mascherano has been moved into either midfield or right-back and has been closer to Busquets.
You just need to look at his partners and the players signed since 2015 to work out a pattern.
Andre Gomes, Rafinha, Iniesta, Rakitic, Arda Turan, Denis Suarez and Sergi Roberto are all present yet you wouldn't consider any of them aside from Iniesta as a natural midfielder capable of helping at both ends of the pitch.
This is a collection of nimble footed, attack focused players that Arsene Wenger would be proud of in his Arsenal team that quite often doesn't even contemplate defending.
You can't build a midfield with such a group of players, there is no balance and as such we have seen Busquets begin to pick up a number of niggling injuries and Messi have to drop into a deeper position just to carry the team over the line with his otherworldly qualities, something he is becoming increasingly frustrated with.
Valverde will arrive with his own ideas about how to help this team develop and evolve because as long as Messi is around that is all that realistically can happen as opposed to a wholesale change of style, and perhaps that is part of a wider problem but that is a separate discussion for another day.
Financial restrictions
Finances are restricted at the Camp Nou in a way that they aren't at other clubs.
It is easy to point out that Manchester United and Barcelona have essentially swapped places in the transfer market from 2010 in comparison to 2017.
At the height of the Glazer induced austerity measures at Old Trafford, Sir Alex Ferguson was forced to be careful in the transfer market and simply couldn't go past the £30 million mark for a single player as he missed out on the likes of Sergio Aguero, David Silva and Eden Hazard all whilst citing a market with 'no real value'.
At the same time the Blaugrana were throwing money around on Cesc Fabregas, Alexis Sanchez, and David Villa. Times were good in Barcelona yet now such business isn't possible without long-term repercussions.
This is exactly why a 2015 move for Paul Pogba fell through despite the Frenchman's willingness to move to La Liga, Barcelona delayed an offer for a year despite meeting with Juventus' directors yet when the summer of 2016 finally came, Manchester United and Ed Woodward simply blew them, and everyone else, out of the water.
The club must get their signings right this summer
Now there are instances where Barcelona's current administration has got it right. Samuel Umtiti arrived last summer from Lyon and has been fantastic in defence.
He has been an able partner for Gerard Pique and has resale value.
The club needs to move for a similarly talented individual in midfield and rather ironically their best bet may also be at Lyon in the form of Corentin Tolisso, a dynamic box-to-box midfielder with a smart range of passing.
Supporters are becoming restless and Valverde is likely to be under pressure from the first whistle next season.
In order to give him and the team the best chance of succeeding next term, Barcelona have to act wisely in the transfer market and avoid a repeat of the mistakes last summer which ultimately helped contribute to their unsuccessful domestic campaign.
Written by Chris Winterburn
Follow Chris on Twitter @Chriswin4
Like O-Posts on Facebook
You can also follow O-Posts on Twitter @OPosts