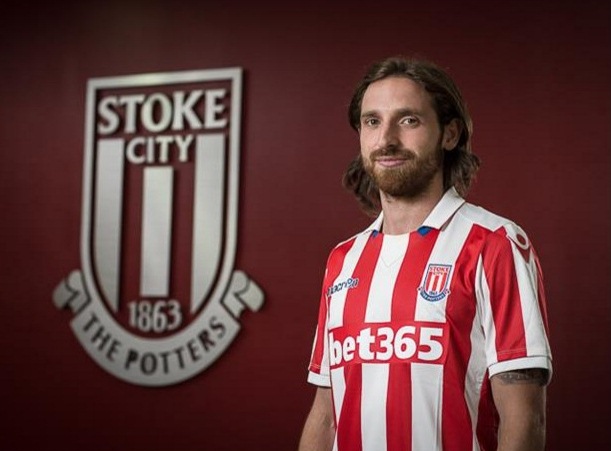 Stoke City have completed the signing of Joe Allen from Liverpool on a five year deal.
The 26-year old was at the center of a heated transfer battle between Swansea and Stoke City, but the midfielder went against the grain by choosing the Potters ahead of his former boyhood club.
The signing- believed to be in the region of £13 million- becomes the second to arrive at the Britannia stadium after the acquisition of Egyptian youngster Ramadan Sobhi was announced just a few hours earlier.
Early life
Born Joseph Michael Allen on 14 March 2022 in Carmarthen, Wales, he ventured into professional football as a youngster with Swansea City until he received his first call up for the senior team in 2007.
His debut season wasn't as impressive and as such, Allen was sent on a season long loan to Wrexham.
It proved to be the most pivotal point of his career as he rejoined the first team the following season, cementing his position with the Swans where he made 127 appearances by the end of the 2011/12 Premier League season.
He joined Liverpool for £15 million in 2012, and his departure from Anfield is considered good for business as the Reds have retained a considerable amount of what they paid for him: given he only had a year left on his contract.
Massive untapped potential, exactly what the Potters need
Stoke City have made a name for themselves by becoming the most notoriously physical, unplayable side in the top flight.
The adverse windy conditions at the Britannia haven't helped either, making a trip to the Mid West unbearable: even for the Premier League's top dogs.
Albeit physical, their game plan has proved efficient, as Mark Hughes inspired his charges to yet another finish in the top half of the table last season.
Joe Allen was maligned for much of last season, staging only as the preferred central midfielder in Europa League matches. The restriction however was down to Jurgen Klopp's personal preference rather than his natural ability.
In fact, Allen proved to be an integral team player, pulling all the strings in the middle of the park as Wales maneuvered their way into the European Championship semi-final: this despite being their first major tournament in over half a century.
Every day the Welsh national team took the turf was christened as 'Joe Allen appreciation Day', in recognition of his standout performances for a player who never receives as much credit as he deserves.
In the long run, recognition was deservedly awarded as Joe Allen was included in the 11-man team of the tournament.
Although not physically endowed like his new teammates, his passes and dribbling ability will suit their style of play, more so with the likes of Marko Arnautovic and Bojan Krkic posing the attacking threat.
Written by Brian Humphrey
Follow Brian on Twitter @brihum
Like O-Posts on Facebook
You can also follow O-Posts on Twitter @OPosts