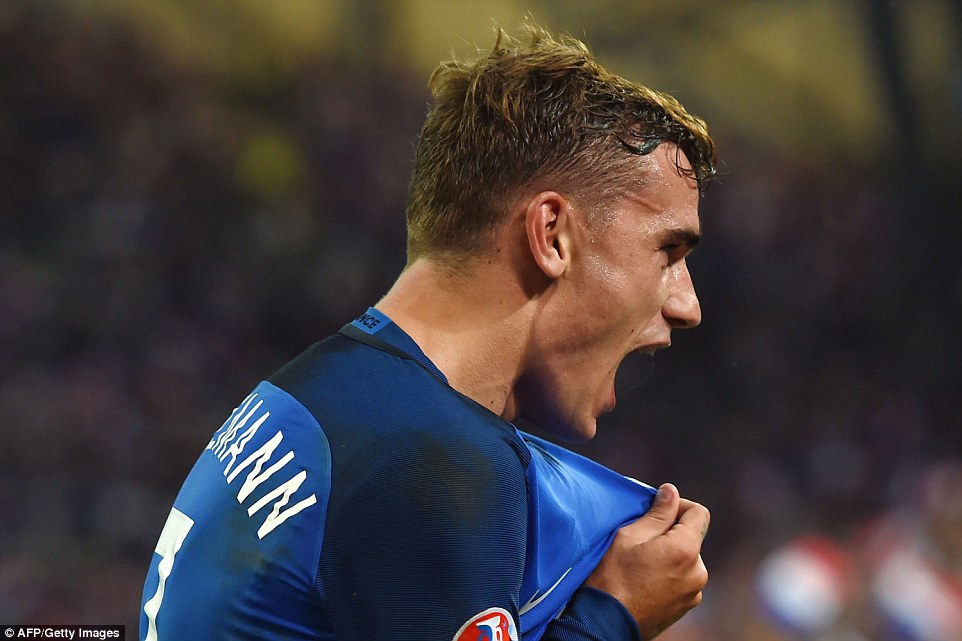 Below is the eleventh installment of a Euro 2016 column titled "Footé in France" by O-Posts mainstay and top football writer, Adam Gray.
After helping France see off Germany to book a place in the final of their home European Championship, Antoine Griezmann was quick to brush off the comparisons to Michel Platini that oddly arrived in the form of goals.
Platini scored nine as France won Euro '84 on home soil and Griezmann, after netting twice in Thursday's semi-final, now has six.
"I am happy with the goals but I am still a long way from Platini" he said.
There are certainly parallels with Platini however, evident in the way Griezmann has assumed the mantle of talisman to drag his country through the tournament like Platini did in '84 and Zinedine Zidane did in the World Cup of 1998.
In Paris on Sunday, he will be presented with the chance to write his name in French footballing legend if he can lead his country to a third international triumph on home turf.
Having been with Real Sociedad since the age of 13 before moving to Atletico Madrid to be part of Diego Simeone's well-drilled battling machine, if people weren't familiar with or convinced by his sensational talent before they will be now.
His goals in this tournament have highlighted the various facets of his ability; he can quickly improvise like he did against Germany, use his devastating pace to peel off the defender like against Iceland or, at odds with the scouts who said he was too small to have a future in French football, leap to head home crosses like the ones against Albania and Ireland.
There is the ice cool composure too, the deadly penalty against Germany would go some way to eclipsing the scars left by his miss in the Champions League final, though more memorable is the brutally cold finish against Bayern Munich to send Atletico to Milan.
His second against Ireland, seizing on a knock-down from Giroud to gleefully take advantage of a gaping defensive hole, was illustrative of his certainty and ruthlessness in front of goal.
If Gareth Bale and Cristiano Ronaldo was the superhuman subplot to the Wales vs Portugal semi-final on Wednesday, then Griezmann has a valid claim to be booked in alongside Ronaldo for the main event on Sunday.
He is France's go-to man in a tournament where they have expected Dimitri Payet, slowly drifting off the boil since lighting up the early stages, and Paul Pogba to be the poster boy of an expecting nation.
Of course, Griezmann owes a lot to his supporting cast.
Didier Deschamps has performed miracles to create such a strong team ethic just six years after their shameful debacle of the 2010 World Cup in South Africa, leaving out potentially divisive figures like Karim Benzema and Hatem Ben Arfa in order to cultivate a spirit and togetherness that even Germany's wonderful football in Marseille on Thursday evening could not break.
After weathering the storm of a bright France start, Germany were utterly dominant in possession, almost hypnotic in the way they moved the ball around patiently in the hope they could breakthrough France's firm defensive block.
Deschamps's brave decision not to start N'Golo Kante looked disastrous as Mesut Ozil and Julian Draxler popped up dangerously between the lines, but saw their supply lines to Thomas Muller shut out by the brilliant Laurent Koscielny and Samuel Umtiti.
Uncertain in the quarter final against Iceland, in what was his international debut, Umtiti will surely earn his third cap in Sunday's final and it appears that, with every clearance and interception the 22 year old made on Thursday, Barcelona have bagged themselves a £22 million bargain from under the noses of clubs arriving too late to the scene.
In all due to the respect to Muller, Umtiti and Koscielny will face a wholly different prospect in Ronaldo on Sunday and Deschamps will surely have to field Kante's industry and intelligence in front of the back four to shut off any supply into the Real Madrid forward.
Against Germany the midfield duo of Moussa Sissoko and Paul Pogba seemed uncertain of which players to pick up either side of Blaise Matuidi, leaving the PSG midfielder exposed at least up until half-time, when Griezmann's penalty gave France a lead to defend.
Kante's diligence alongside Matuidi's energy in a 4-2-3-1 with Griezmann central, continuing his productive partnership with Olivier Giroud, seems like the most likely option to combat Portugal but it requires dropping Pogba, almost unthinkable for a game of this magnitude despite not yet shaking off that image of a highlights reel player who performs without the need for thought.
Deschamps may however persist with the 4-3-3 in the hope that Portugal will command far less of the ball than Germany and so the need of a specialist defensive midfielder would be somewhat reduced.
Deschamps is in the attractive position of being able to call upon the experience and leadership of the excellent Hugo Lloris and left-back Patrice Evra, the 35 year old who Deschamps has praised for uniting this squad.
Evra will have to summon up every one of his evergreen years if he is to pacify Renato Sanches on Portugal's right, but the ex-Manchester United man is already familiar with Ronaldo and his strike partner Nani having played alongside them at Old Trafford.
"A final is a final" said Evra, under no illusions of the size of the task ahead. "I am going to play against some old team-mates there. It's a big moment, but there are no gifts here".
Facing a team as varied and talented as France's Portugal will be all too aware that there will be no gifts on offer in Paris.
Not with Griezmann, with his attacking flair now mixed with the rough and uncompromising ruggedness of Simeone, standing on the brink of consolidating his blue number 7 shirt in history, alongside the two number 10s of the past.
Written by Adam Gray
Follow Adam on Twitter @AdamGray1250
Like O-Posts on Facebook
You can also follow O-Posts on Twitter @OPosts