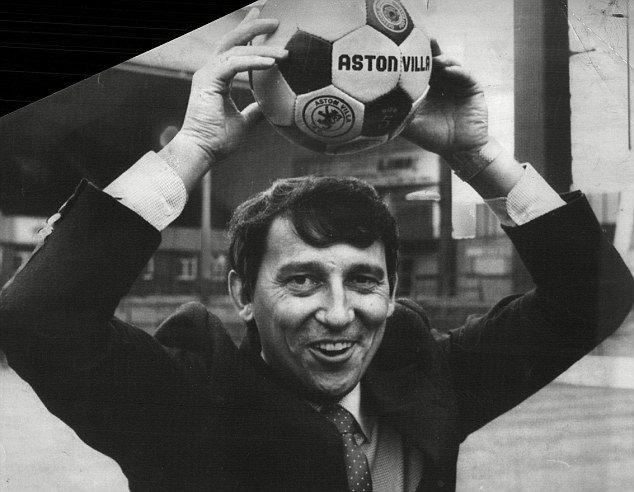 Tell you what, Carlton is going to have to knock it one hell of a long way for Graham Taylor to see it now.
Allow to me step down from the tongue-in-cheek momentarily. Graham Taylor was doing high tempo, pressing football way before any of our continental friends brought it to the Premier League.
He took a team from Division Four to runners up in Division One in six seasons, spending £790k.
He, wrongly, will be remembered for, annoyingly, a compelling documentary on Channel 4, failing to qualify for USA 94 and subbing off Gary Lineker in what turned out to be his final England appearance.
This does not do credit to one of the finest managers the English game has seen. And as for the S*n saying nice things about him today after they hounded him in and around 1993? Well I have no words.
Actually I do, and to quote Graham Taylor himself, "do I not like that." Phil Neal was asked to comment on Taylor's sad passing and was only just able to mumble the words, "yes boss."
New deal for Fellaini
Anyway, moving on. Fellaini has got himself a new deal at United.
He has got some serious dirt on Jose, hasn't he? I dread to think what it is.
The big Belgian will "grace" the Old Trafford a little longer.
Klopp baffled
Jurgen Klopp has admitted to being baffled by Liverpool's performance in their 1-0 first leg loss to Southampton.
I find it hard to criticise King Klopp, but when you are asking Daniel Sturridge to run around the pitch with a piece of paper giving the team instructions, I would suggest it is a day to forget.
Homesick Payet
Dimitri Payet is home sick, or so he says.
He wants to return to Marseille where he can be close to the Mediterranean. You won't find me disagreeing with that sentiment Dmitri.
The Med or the Thames, decisions decisions. Slaven Bilic adopted the persona of a Dad who had just been told to do one by his son for the very first time, an abject picture of hurt, rage and emotion.
Come on Slaven, he just wants to go and play with his mates again because he has realised that all the money in the world isn't enough to play in that god forsaken arena you are trying to pass off as a football ground.
Schneiderlin to Everton
Here's one for the purists among you. Morgan Schneiderlin has officially moved to Everton for around £20m.
£22m is thought to be the price meaning that Gaya is going to have a new buddy in midfield to run around with chasing the ball just given away by Ross Barkley.
No, that isn't the bit I am interested in. The central midfielder will wear the number two shirt. Yeah, the number two shirt. Shocking.
Tom Cleverley is so disgusted he has legged it to Watford on loan.
Everton are also lining up the talented Algerian player who isn't Riyad Mahrez or Islam Slimani. They are going to splash £10m on a striker called Belfodil.
Nope, me neither but then I am not hipster enough to be au fait with the squad of Standard Liege.
Jealous Arsene
Arsene clearly got all jealous of United announcing Fellaini's new deal so tripled the stakes by telling the world Giroud, Koscielny and Coquelin had all agreed new deals.
Funnily enough Arsene, these aren't the ones the fans are most interested in. Any news on Mesut and Alexis?
Makelele spotted at Swansea
That gives a whole new meaning to the Makelele role, doesn't it?
The Chelsea legend, the guy that was N'Golo Kante before N'Golo Kante, the player that made Frank look good and bought Terry time on the ball has a new role in the game.
He has reappeared at Swansea as Paul Clement's number two. Apparently Claude called Paul and asked if he could help.
If Alan Curbishley had realised it was that easy to get back into the game, he wouldn't just be getting linked with every job going he'd be getting them.
Mourinho memo
José Mourinho has reminded fans at Old Trafford that when they come to watch his team, they are not going to the theatre.
Therefore, they are allowed to make some noise. Following some of the theatrics thrown around by José earlier in the season, you can forgive United fans for assuming that Old Trafford was the modern day Globe Theatre.
Actually, it was more the Victoria Theatre in Woking right in the middle of pantomime season.
Either way, Mourinho would like the fans to make Old Trafford somewhat daunting for Liverpool when they visit at the weekend.
Considering the infamous photo tweeted by Gary Neville from Anfield in their last meeting, providing United fans keep their phones in their pockets and shout a bit they will already be more intimidating than their Scouse counterparts.
Terry to Bournemouth?
By all account John Terry is not about to start being picked for the Cherries. So close to the perfect pun, but yet so far.
How about this? JT now has the mobility of a glacier, so signing for the Cherries would be apt. Oh sod it, it's not happening anyway.
City shenanigans
Finally, Manchester City are being charged with doping offences. As ever, the headline is far grander than the actual story.
Apparently some paperwork has been filled in incorrectly with regard to player whereabouts. Which opens the door beautifully to do all manner of "*insert your own player* goes missing for City" punchlines.
I'll leave that one with you. I'm done for today.
Southampton and City? Pah, someone else can fill you in on that.
FYI: This piece is satirical.
==============
PS:  Yes, I know it is spammy but please support Tales from the Top Flight by pre-registering to play FireFan. It is a FREE sports app that costs you nothing to download, but Tales make a small commission on each free download which helps us pay things like server costs, automation software and, hopefully, one day for submissions.  I repeat, it will cost you nothing to download but will help us massively.  Thank you.
PPS:  Subscribe to the newsletter and get things that don't get published on the website, you know, as a special treat to you.
PPPS: To catch up on posts you may have missed head over to www.talesfromthetopflight.com and follow him on Twitter: @comeontheoviedo
Like O-Posts on Facebook
You can also follow O-Posts on Twitter @OPosts