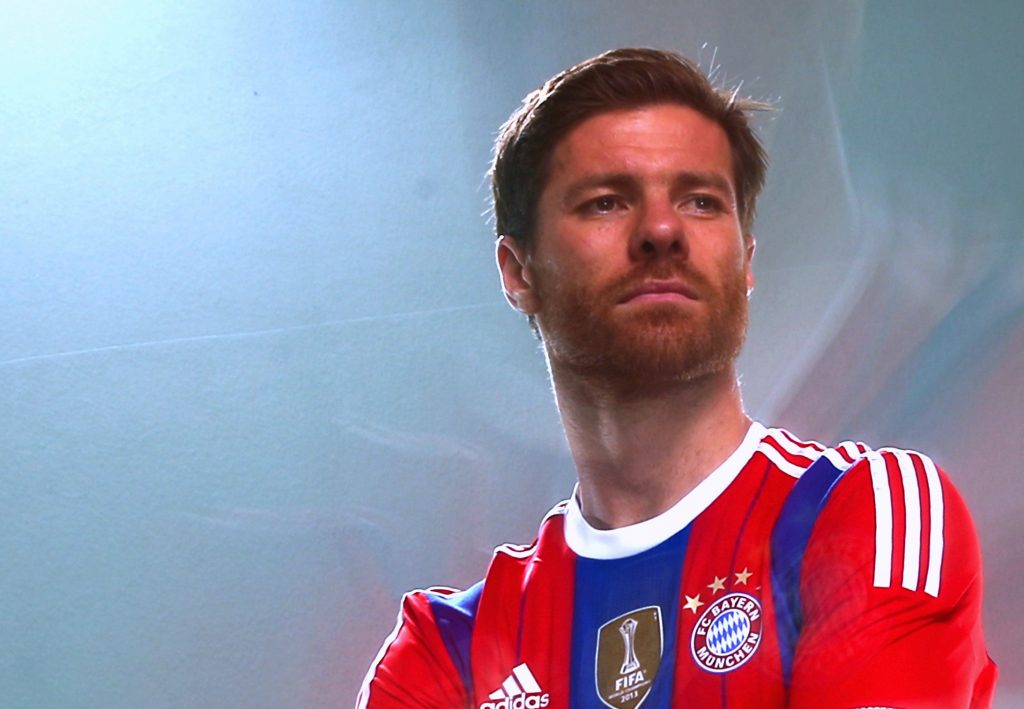 Xabi Alonso announces his retirement from football, effective at the end of the season.
"It wasn't an easy decision to make, but I believe it's the right time.
I always thought it would be better to quit sooner rather than later. I still feel good, but I believe this is the right moment.
I wanted to end my career still at the highest level and Bayern is the highest level. I'm incredibly proud and happy to play for FC Bayern and to be a part of this family."
The 35-year-old is one of many great Spaniards either still playing or recently retired that have won it all.
One of the greats
It's easy to get lost in the shuffle of Spain's golden generation, particularly when playing in the same position as Xavi, but Xabi Alonso has been one of the 21st century's great players.
Alonso became first-choice at Real Sociedad at the age of 19, following a brief loan spell at Eibar.
Returning to his parent club in January 2001, the teenager was surprisingly made team captain by manager John Toshack as Sociedad desperately fought off relegation.
Despite sitting in the relegation zone in the winter, they managed to eventually finish 14th.
By 2002/03, Alonso had helped Sociedad to their best season in 20 years, finishing second to Real Madrid in La Liga, just two points adrift of the champions.
"I don't remember a former youth team player causing such an impact at the club. Everyone seems to play better when he is on the pitch." - John Toshack
Recognized
Alonso's performances were recognised by receiving the Don Balon award - Spanish footballer of the year - in 2003.
The following season Sociedad reached the last 16 of the Champions League but finished 15th in La Liga.
Despite this, Alonso was selected for Spain's Euro 2004 squad and got a £10.7million move to Liverpool.
Influential figure at Anfield
Alonso had helped bring joy at Real Sociedad and it was a pattern that would continue everywhere else in his career.
Liverpool won the Champions League in his first season, defeating AC Milan on penalties.
The following year, in 2006, he helped his side win the FA Cup and was integral in Liverpool reaching another Champions League final, in 2007.
Liverpool finished second in the Premier League in 2008/09, the closest they'd come to a league title since 1990.
His influence on the Merseyside team was often understated and though he was part of a very strong collective that year - with Pepe Reina, Jamie Carragher, Javier Mascherano, Steven Gerrard and Fernando Torres helping forge a strong spine - it wasn't until Alonso left for Real Madrid in the summer of 2009 that many fans realised just how important he was.
The Liverpool fans knew, of course, and it would take Liverpool a little while to begin competing at the same level again.
"By some distance, the best central midfielder I ever played alongside." - Steven Gerrard
Successes continue at Real Madrid and Bayern
Barcelona won three league titles in a row between 2008/09 and 2010/11 and so Alonso ended his first year without a trophy, settling for a Copa Del Rey in his second season in the capital, before helping Madrid win the league in 2011/12.
By 2013/14, he won another Copa Del Rey, as well as his second Champions League title and Madrid's first since 2002.
"Xabi Alonso is like a metronome, a player in the style of Xavi Hernandez. I'm sure that when he hangs his boots up he'll be a great coach. He reminds me of Pep Guardiola when he was a player: he already acts like a coach when he is on the field." - Jose Mourinho
Perhaps surprisingly, Pep Guardiola brought the 32-year-old Alonso to Bayern Munich in 2014.
He's helped Bayern to two straight league titles and a German cup since then and may add even more between now and the day he hangs up his boots.
"If we signed him to chase opponents, we should forget about him. He would be the worst player in the world. We signed him to dominate the game. Once Xabi has the ball, he is the best player." - Pep Guardiola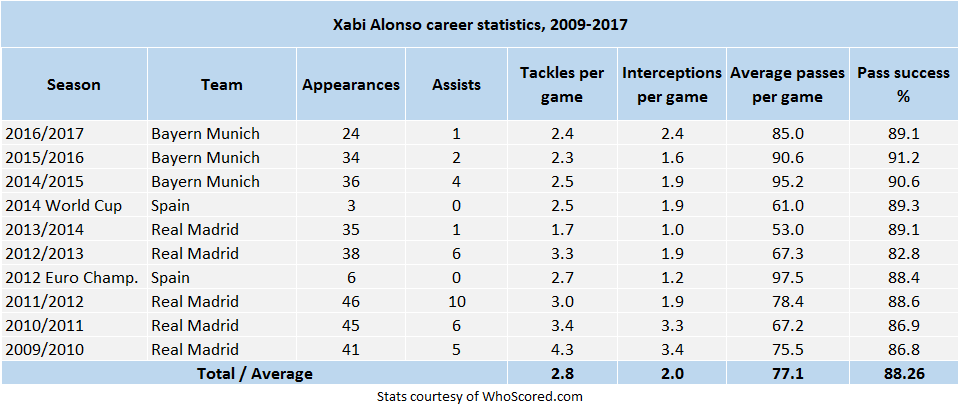 *appearances and statistics include domestic league, Champions League and international tournaments. Correct at 9 March 2022
Barely misses a beat
Alonso's statistics have barely let up as he's reached his mid-30's.
Always the deep-lying playmaker, Alonso has perhaps stepped further back in his later years at Bayern, which explains a lower assist rate, but up-turn in number of passes.
A consistent tackler and fantastic reader of the game, Alonso's qualities have lied in breaking play and quickly turning defence into attack.
His contribution to the national team is not to be overlooked.
Crossover
Though part of really great teams, Alonso's peak years crossover perfectly with that of Spain's.
Spain won all of their 2006 group games at the World Cup in Germany but were knocked out in the last 16 to France.
Alonso played in four of Spain's Euro 2008 matches where they won the first of three successive international tournaments - where he started every game in the 2010 World Cup and Euro 2012 wins.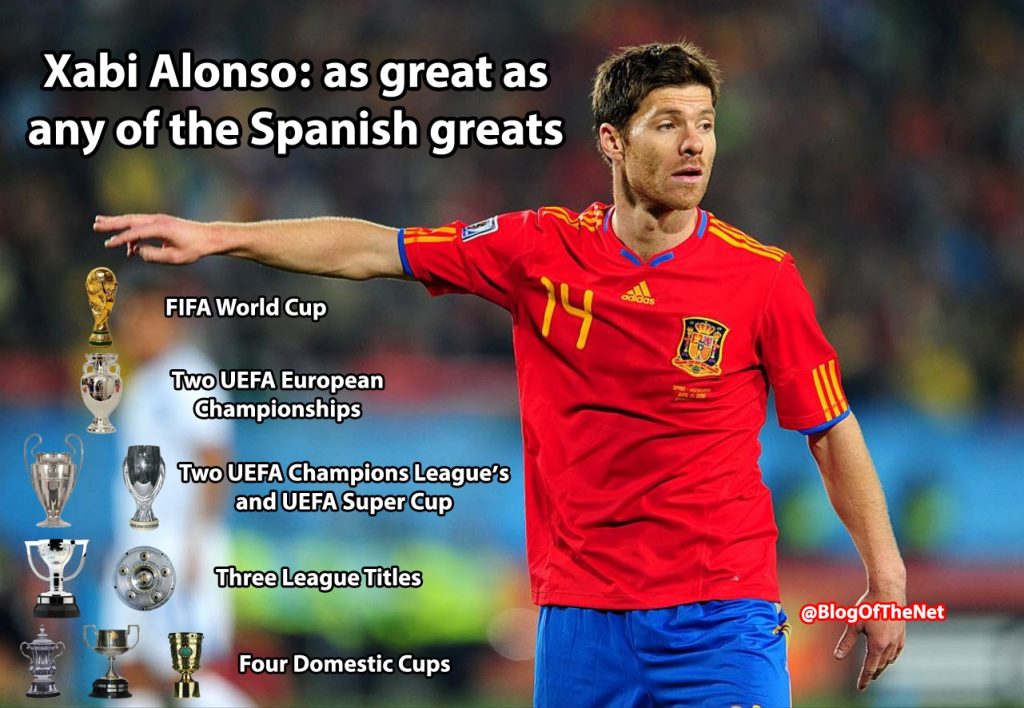 Very few can boast a C.V. as good as Alonso's, with a World Cup, two UEFA European Championships, two UEFA Champions Leagues, a UEFA Super Cup, three league titles (La Liga and two Bundesligas) and four domestic cups (FA Cup, two Copa del Reys and DFB-Pokal).
Deserves to be remembered in the highest regard
With an array of passes in his locker from short to long, the names of Xavi, Paul Scholes and Andrea Pirlo are often mentioned when it comes to the best at this.
Xabi Alonso should and will be remembered by most in the same regard.
Very few have also shown themselves to be brave or good enough to excel in England, Spain and Germany.
He's been the ultimate team player in several great teams.
Written by Richard Clark
Follow Richard on Twitter @richardtheclark
Check out his excellent football blog, Blog of the Net and follow them on Twitter @BlogOfTheNet
Like O-Posts on Facebook
You can also follow O-Posts on Twitter @OPosts